Project Spotlight:
SUNY Geneseo's Red Jacket Dining Hall
SUNY Geneseo came to us with a challenge: renovate the existing Freshman dining hall to better utilize the second floor and create a student union atmosphere. At the onset of each academic year, Red Jacket is a warm, inviting and familiar environment for freshman while introducing them to collegiate life. In the summers, it's a tried & true recruitment tool for both young potential students and their pragmatic parents. The fact is, that Red Jacket is one of the first introductions to freshman life that students will have on campus and to the college community and feeling comfortable is a key component.
Dining centers are no longer the place you go to just eat; they should serve as a home away from home for students. It's a crossroads to meet and mix with those of diverse backgrounds; for budding philosophers, it's a place to collect thoughts, to ponder and reflect; for gamers, it's either both a playground and a battlefield; for international students, it's a taste of home, which no longer seems so far away.
Project Background
Red Jacket is the only freshman-focused dining hall and the only pay-one-price dining facility at SUNY Geneseo. The building is a 2-story, 22,144 square foot brick and steel structure. Originally constructed in 1966, until this project Red Jacket had not seen any interior modernization other than maintenance projects entailing HVAC and roofing since its original construction.
When the project began, the first floor dining space was dark, dingy, and dated. Our renovation plan created bright, clean, and exciting new serving stations with expanded second floor dining. We added new lounge spaces and common areas to support student studies and activities as an expansion of the options offered by the student union. Each space throughout the building encourages socialization, studying, and healthy eating for campus community members.
In addition to the common spaces, the food service facilities and building systems were also completely renovated including a new loading dock, new roof, new elevator, upgraded M/E/P systems and accessible restrooms were added.
Our Design Approach
The approach to Red Jacket was to see the bigger picture of the space as a multi-purpose building as well as a top notch student dining facility. The friendly vibes will draw you to take a curious stroll, peek around to find ample nooks and crannies scattered throughout, to sit quietly or enjoy the company of others. To some, Red Jacket is a gathering place for bonding with friends; to others, it is a dining experience where choices are varied and exciting; and to many, it doubles as a relaxed alternative for study areas and group meetings.
Intended to be a home away from home for first time college students, Red Jacket offers diverse dining cuisines and serves as a satellite student center. Providing more than just great tasting, nourishing food, Red Jacket also offers a sense of community, a place that students can feel is their own, and a destination where they can connect and communicate.
The primary goal for this project was that the facility needed to be adaptable, flexible, and invoke students to gather and enjoy the dining experience. In order to do so, the amount of multi-purpose spaces and cross-utilization for Geneseo's ultimate vision of Eat-Study-Play, a concept that would develop Red Jacket Dining Hall into a destination, had to be increased, thus strengthening the center's connection to the rest of the campus.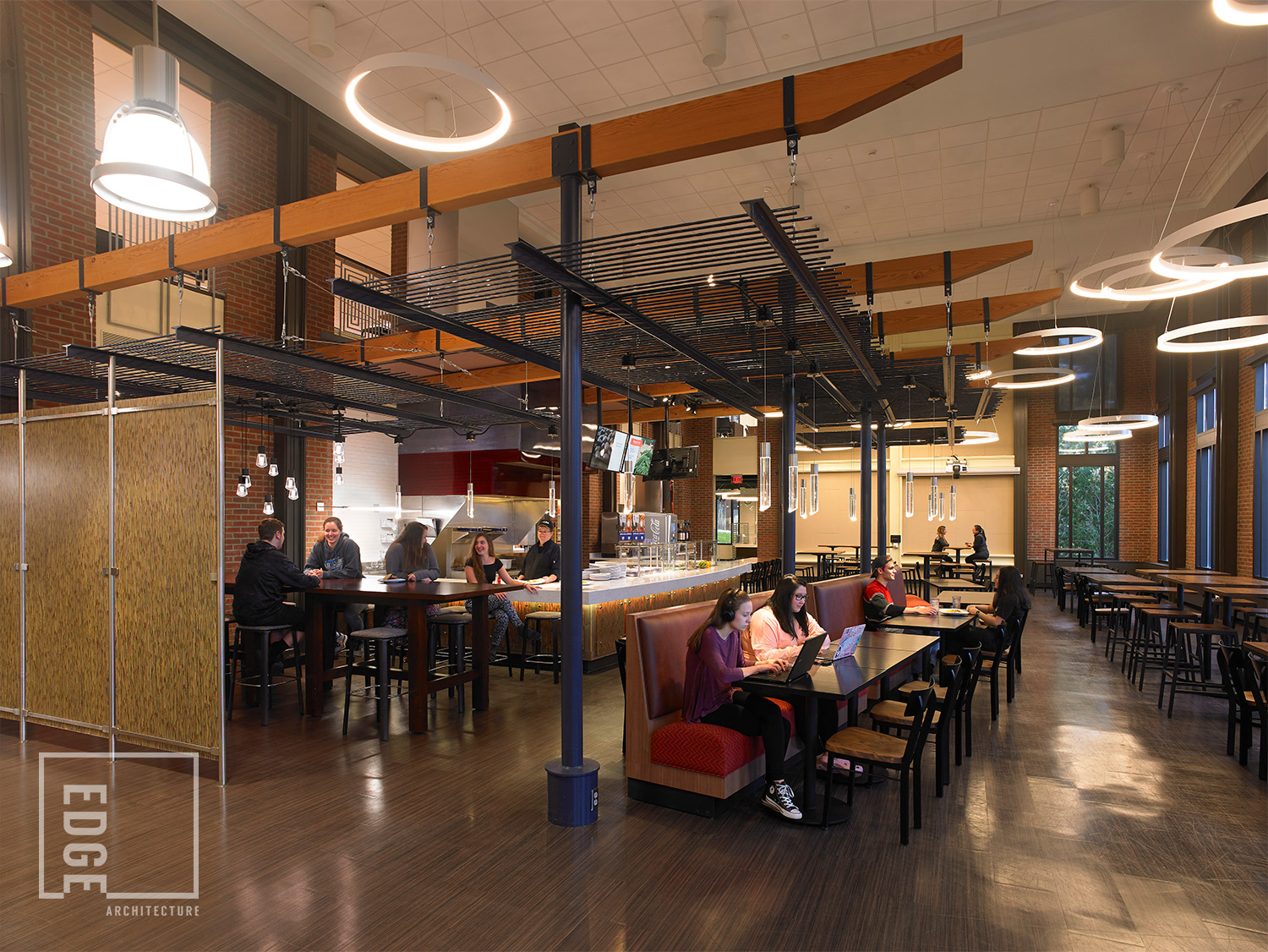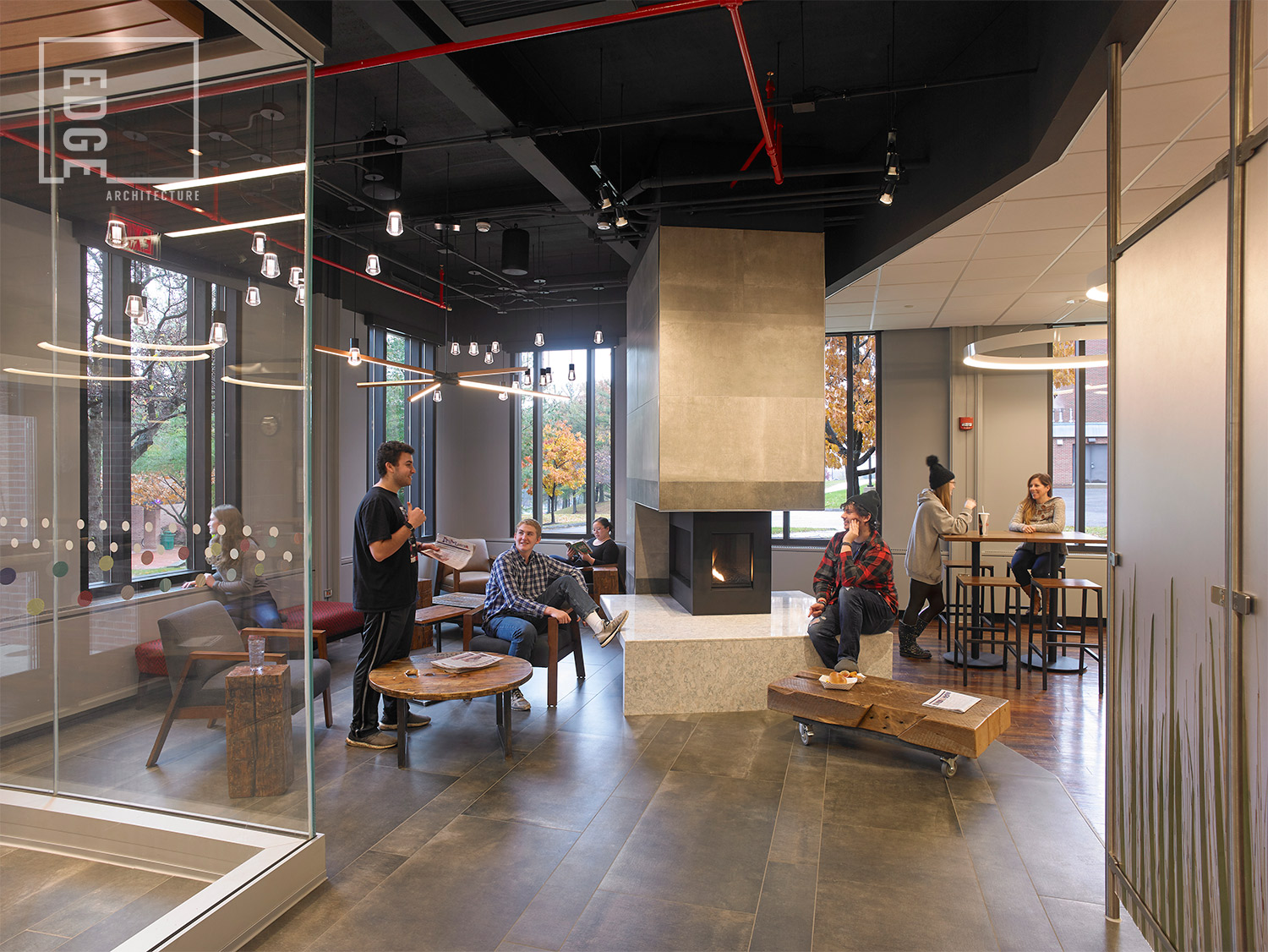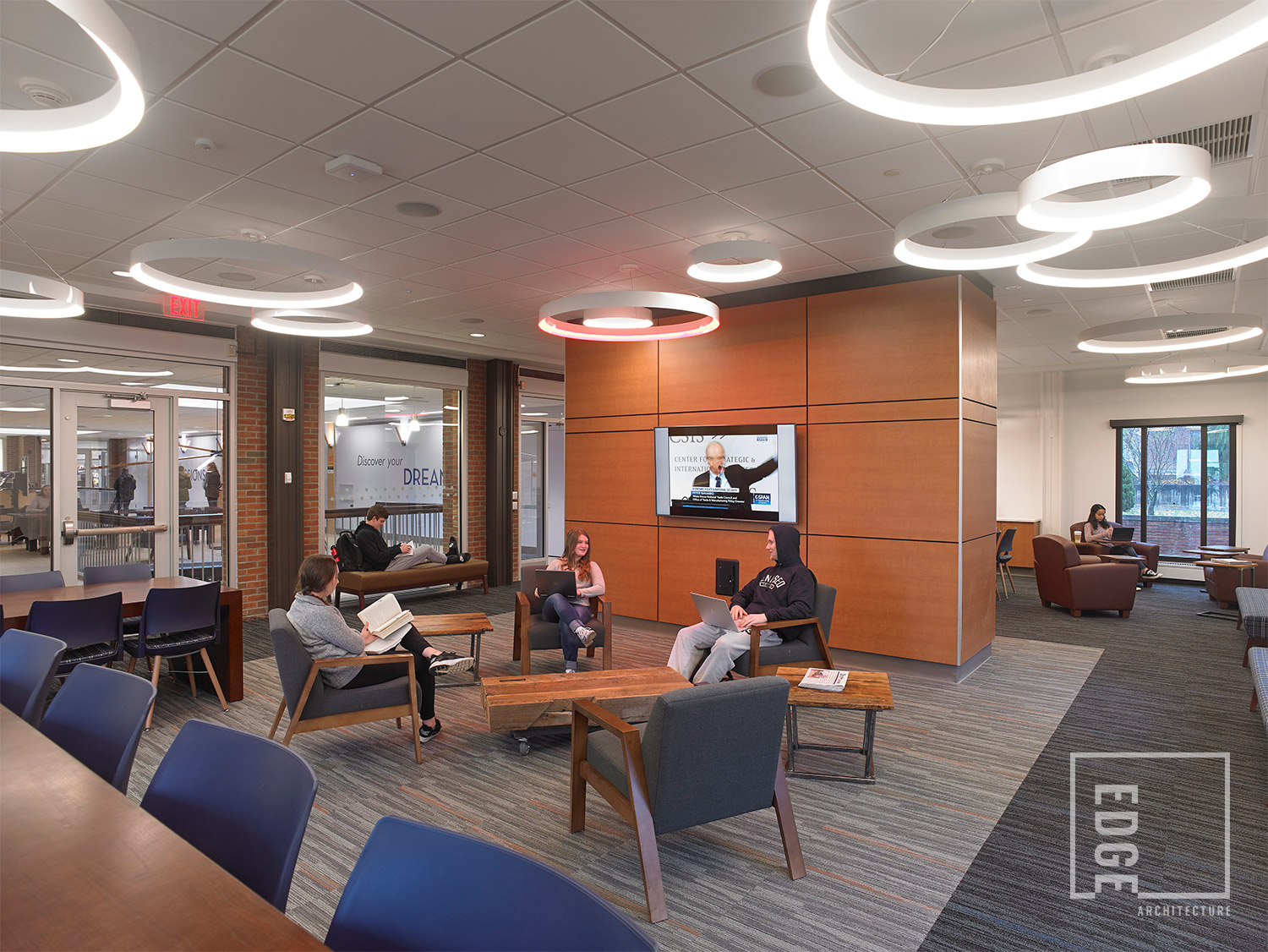 A Place to Connect & Communicate
The newly-designed main dining area incorporates a pergola structure hovering above the Twisted Fork servery and provides more intimate seating beneath the timber canopy and expressed steel frame pergola. The intention of the main dining area is to provide a warm, restaurant-like atmosphere within the dining hall. With its 2-story windows, guests can overlook the vast Genesee Valley and enjoy the hustle and bustle of the lively neighboring residential quad. Designed to fill the 2-story space with visual interest, the pergola can be enjoyed from the first floor dining area and from the second floor above.
Adjacent to the main dining area is the north dining room, offering a home-like atmosphere with a cozy fireplace, soft lounge furniture and flexible seating options. It provides additional dining seating options and with integrated technology, audio and video, the space can host small- to medium-sized events.
Seating options throughout provide students the flexibility to rearrange furniture for various tasks. Video displays, common tables, and mobile walls promote flexible spaces and the opportunity to share ideas, study collectively or communicate with friends in passing.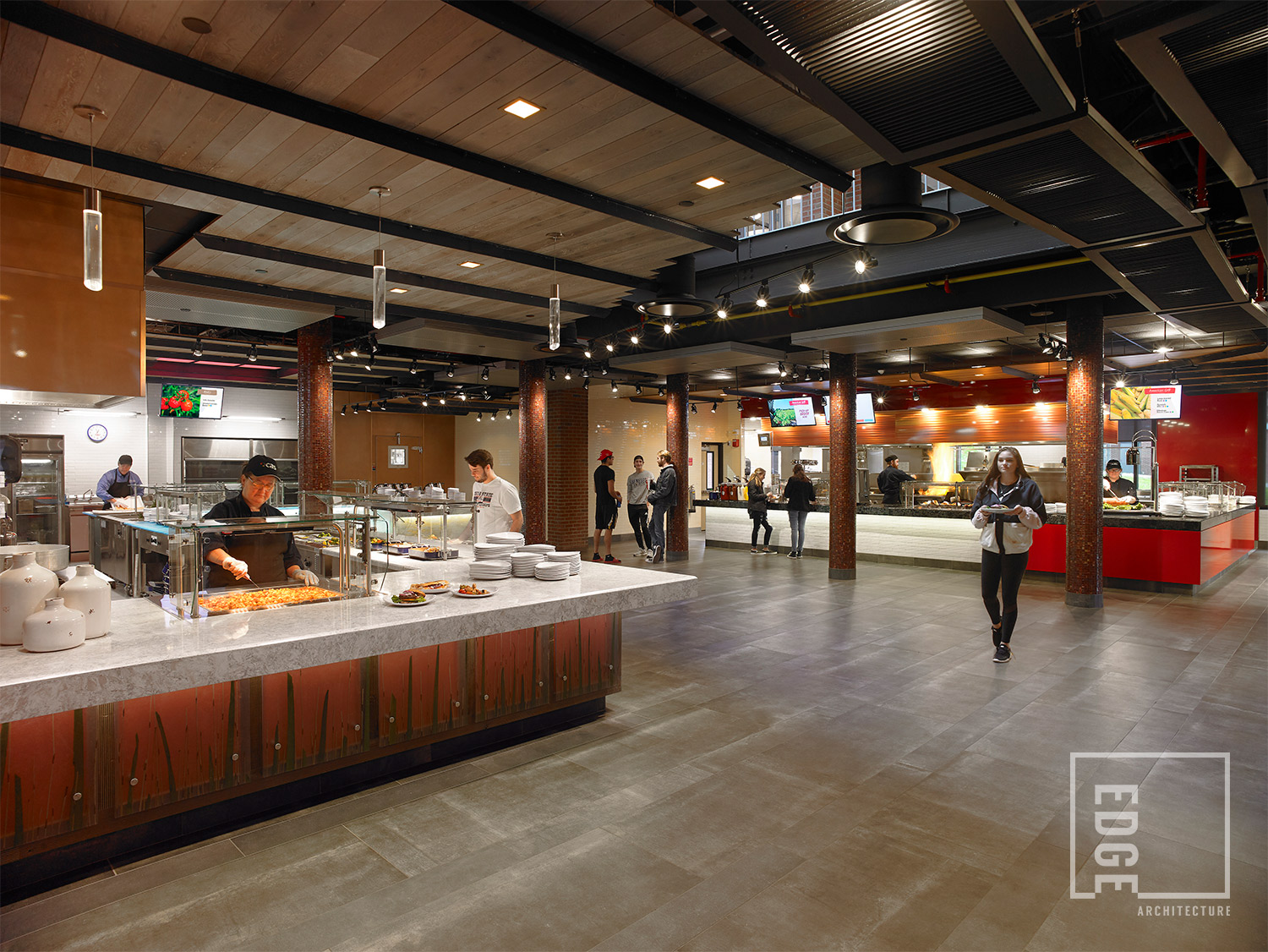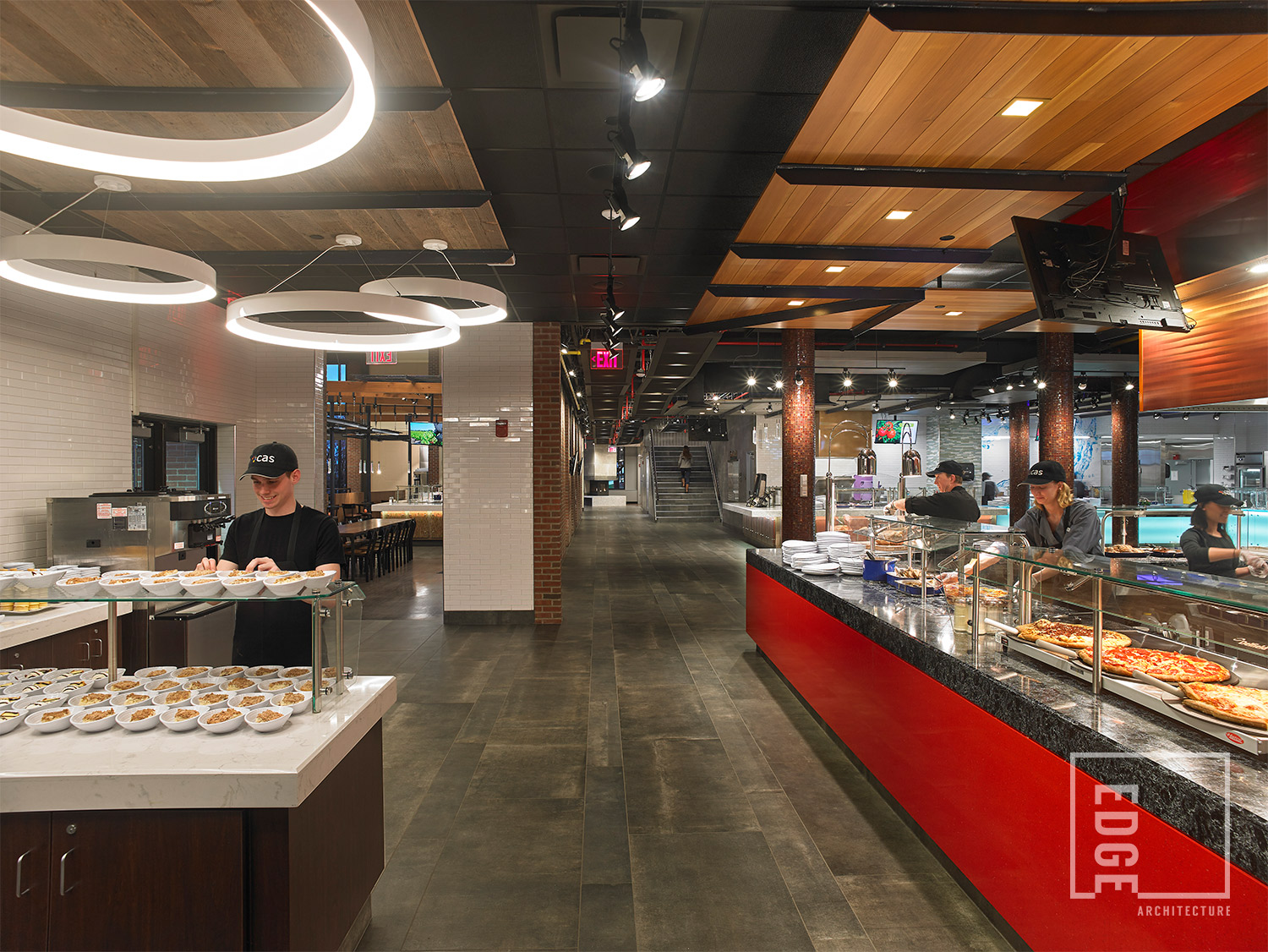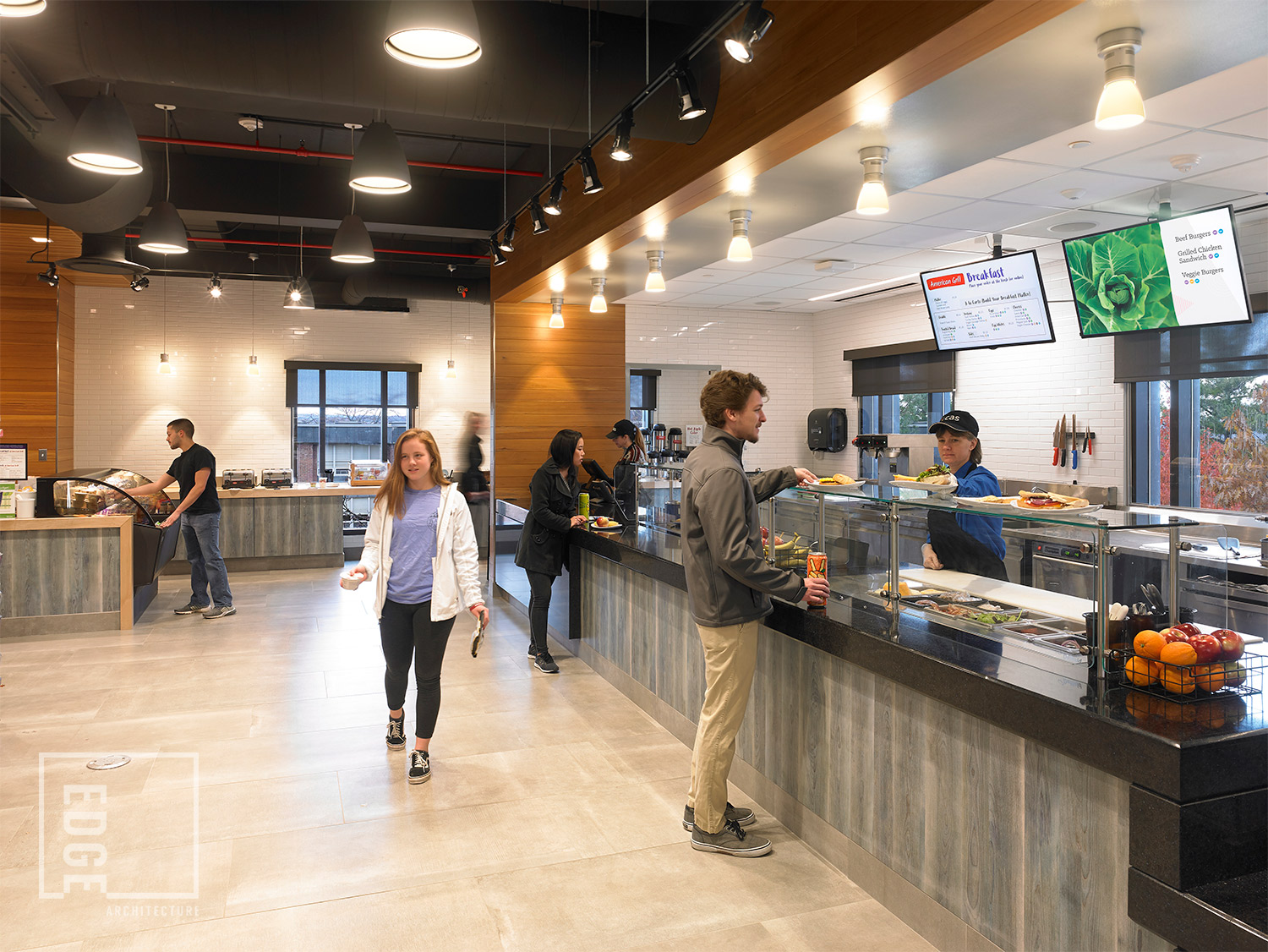 Coming Together Through Food
The overall design creates stronger connections to all spaces (upper and lower levels) in the Dining Hall and improves the experience for all that occupy it such as students, staff, faculty, and even future students by uplifting interiors and providing healthier environments for all parties to socialize, learn, work and dine. For example, in order to promote more interaction between staff and students, the chefs were brought out from being closed in the kitchen to out front cooking and serving in the main servery, creating a greater transparency between the two groups.
The renovated first floor servery now has a variety of different food stations are available for students to choose from. Options include: Twisted Fork, chef-driven creative cuisine; American Grill serving up traditional favorites; Roots, offering plant-based meals that accommodate vegan and vegetarian diets; and Clean Eats, serving food free of the top eight food allergens; there are also stations for soups, salads, desserts and more.
On the second floor, students who are on the go can purchase a wrap, snacks, prepackaged healthy meals and fresh baked goods from Jacks, a deli-style convenience store.
The Importance of Sustainability
This refreshed environment was developed with sustainability as a high priority. Energy efficiency optimization was achieved through exemplary lighting, lighting controls, and an updated HVAC system. Waste composting of food scraps are used throughout the campus grounds as fertilizer.
A visual element of the green approach that was taken is the adaptation of existing window shutters (reused as ceiling clouds) and the use of reclaimed wood in ceiling features. Recycled materials accounted for more than 40% of materials in this project, while more than 60% of construction waste was diverted from landfills, and over 60% of the new materials used were manufactured regionally. The project is seeking LEED Gold Certification.